Perfect temperature and weather to sit outside and have my coffee this morning in Illinois. I saw these deer off in the distance and watched them play. They started coming near me and I thought I was going to get some great close up shots. But of course, my darling puppies saw them and scared them away. We don't know where we'll end up tonight. We're just getting in the truck and driving until we don't feel like driving any longer. I love days like this, you never know what fun surprises await us. I do pray they are all fun, no bad ones.
Ron took a sip of his iced tea, did a verbal checklist to make sure we hadn't forgotten anything, then we rolled out of site 8 at 9:16 a.m. CST, destination unknown. We passed into Indiana at 9:23 a.m. CST. We take I-64 the rest of the way home, at 9:49 a.m. CST, Ron said we had gone 4,168 miles so far.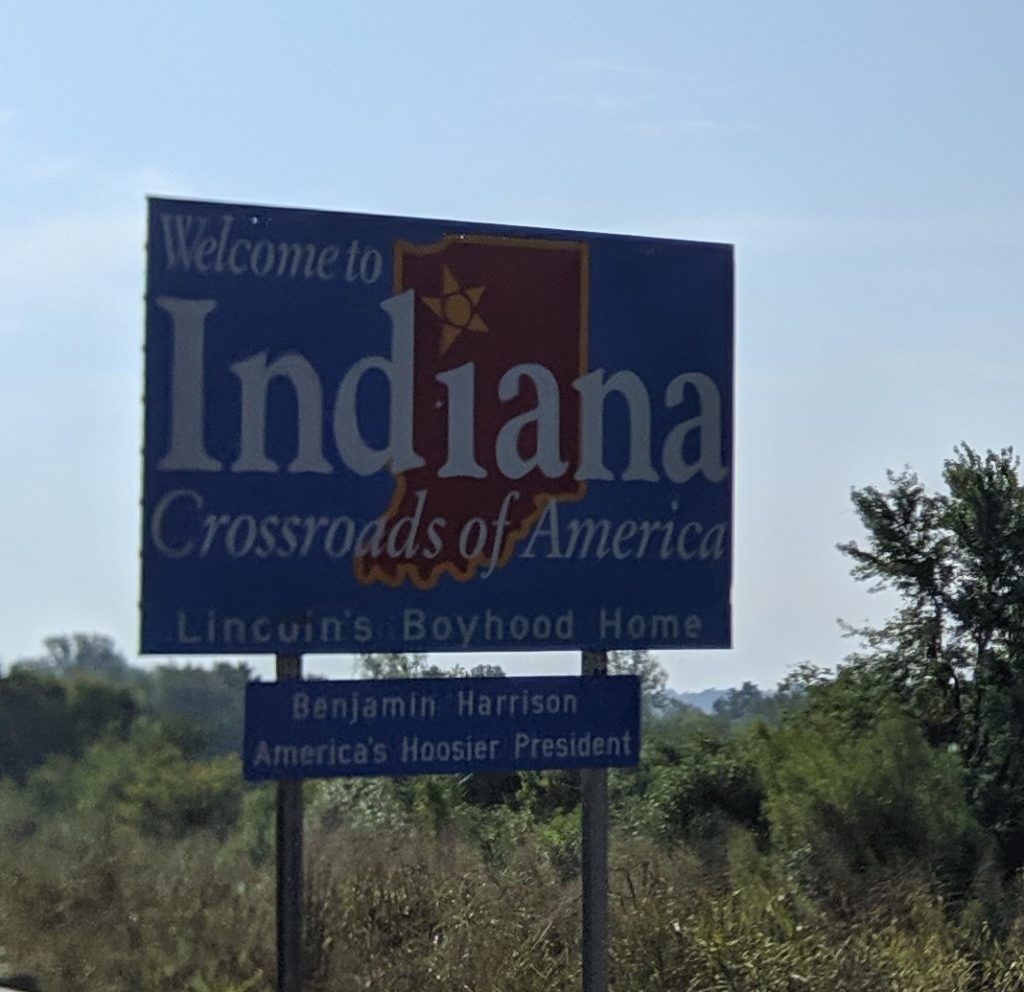 At 11:52 a.m. EST I realized we were back on east coast time. I'm not sure when we crossed the timeline. At 12:21 p.m. we crossed into Kentucky, driving through Louisville as our journey continues. I had no idea the city had so many bridges, none of which match. We crossed the Ohio River, going under the bridge, which seemed odd. Shortly after we came through the tunnel, we saw the graffited sign informing us, 'Capitalism is Killing Us All." I googled the phrase just to see what would come up, lots of things came up, none of which I read. We drove by the Louisville Slugger Stadium, as well as the new soccer stadium they are apparently building. Our reflection was on the milk truck as we passed, with the flag, I thought it was a fun shot.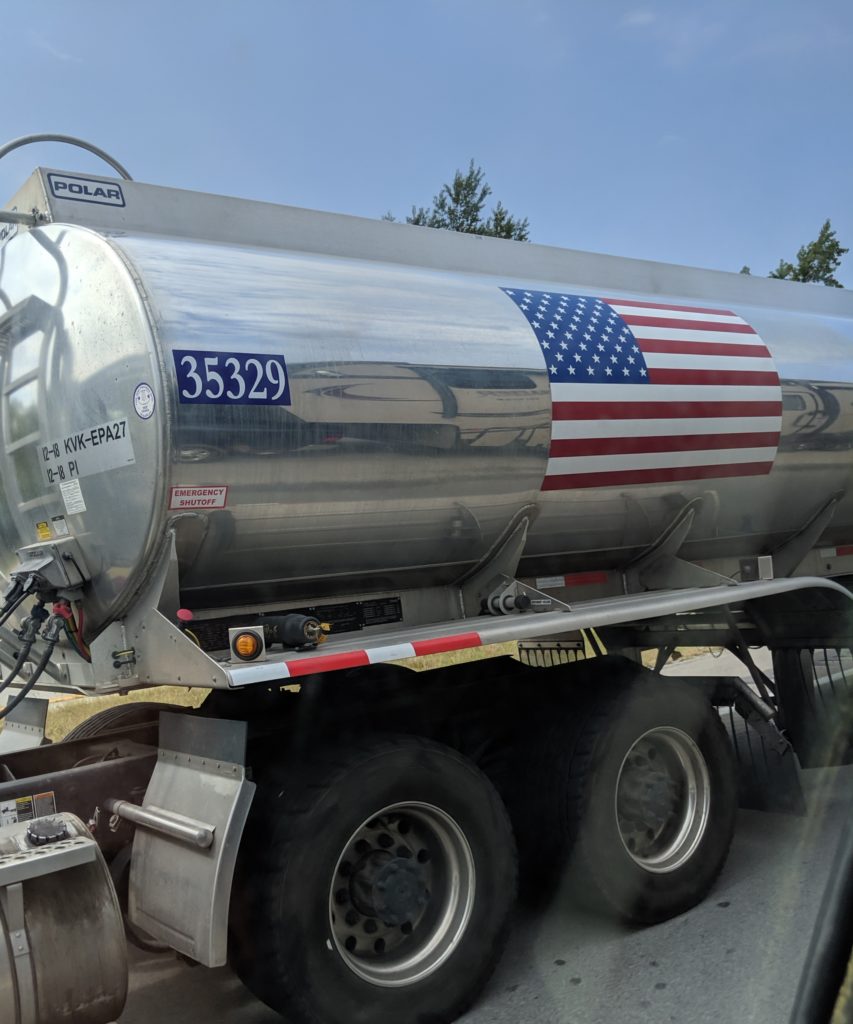 We've decided to drive until 4:00, maybe a little longer, depending on where that puts us, I find it hard to calculate that on a map, Ron is much better at reading maps than I am. Honestly, I suck at reading maps. I have no idea how I drove over 50,000 miles a year, for 16 years, with the horrible sense of direction I have. And I didn't have google maps telling me what to do the majority of that time. Ron can flip the map around in his mind, I can't. I can never tell if I'm to turn left or right. We're coming into storms, I've been able to see the dark clouds for miles. I just looked at the radar, we might just miss them, hope so. When I opened up myradar to check the storm, it was still on Colorado Springs, made me sad for a second, I miss it already. We made such good memories there together.

The rain started just outside of Frankfort, KY. Unfortunately, the rain wasn't heavy enough to get the dust off the truck, it did help with the bugs on the windshield immensely. We crossed over the Kentucky River.
The reservation at Ashland/Huntington West KOA was confirmed at 2:09 p.m. We'll be 448 miles from home at the point. We'll get home tomorrow around 5:00 p.m., our adventure over at that point, time to relax back into life.
We pulled in to site 10 at 3:48 p.m. A litter of kittens was napping on the porch when I went to check-in. One woke and stretched his little paws, cuteness meter off the charts. The KOA has cute cabins which overlooks the hills. Since we'll be getting home tomorrow, the time has come to clean the trailer. I vacuumed and cleaned the carpets, then packed up my clothes. A little melancholy, a lot, just ready to get home.
After cleaning the trailer we headed to Smokin' J's for an appetizer and drink. They have a great happy hour, 2 drinks for $5.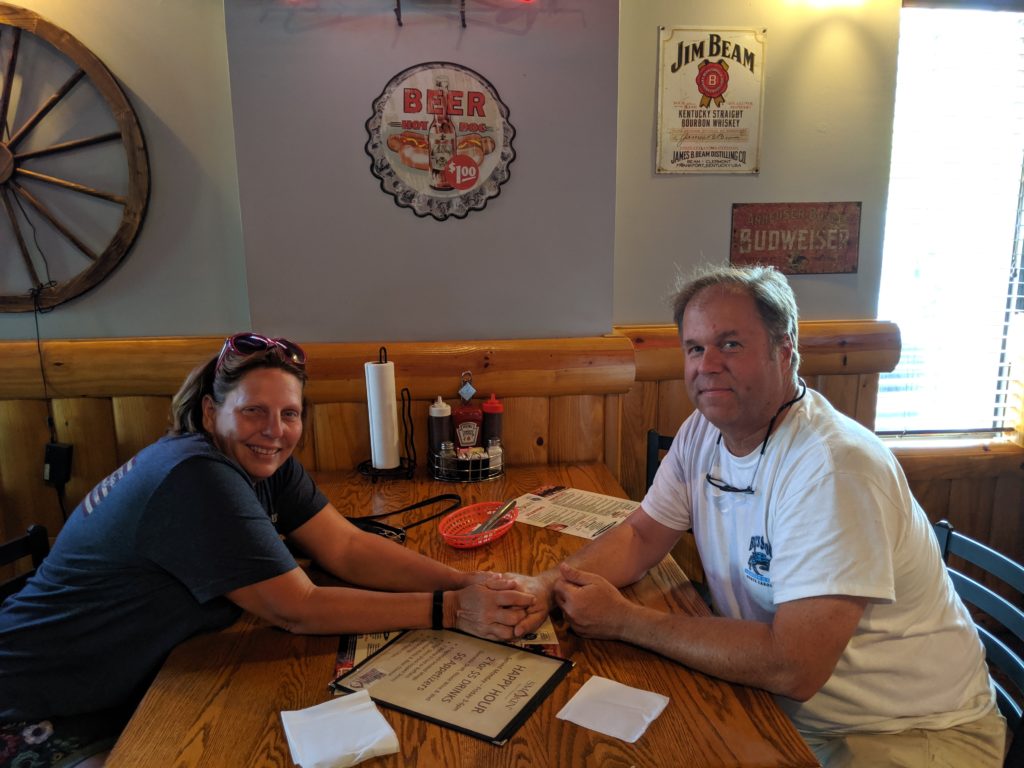 We discovered, on our way home, we were close to Ohio, just across the Ohio River. Of course we had to do a drive by and say hello.
The last light is fading in Ashland, KY. The trailer is cleaned, all but the bathroom and kitchen floor. She's ready to take a rest from the road for a bit. Our last night on the road for this trip. We couldn't ask for a better evening.
My babies, what a wonderful blessing it has been to have them with us. Our trip was so much better as a result.