We passed into Central Time zone at exactly 2:00 p.m. Ron's phone updated within a minute to the time change, mine, of course wasn't set to auto change, so I had to update it myself. Not quite as fun. We're leaving the truck clock on East Coast time so we don't get confused.
Willie Nelson greeted me when I checked us in to the campground. We started backing into site 212 at Two Rivers Campground at 3:41 p.m. CST. Unfortunately, no grass for the puppies on ours, although many do have grass.
Willie Nelson

Site 212

Site 212
Left around 4:30 to head downtown to Music City. We took an Uber, John was our driver. I asked him the question he'd obviously heard before, "If you were only here for one day, what would you do?" His answer was quick and detailed. His first suggestion was where we were already going. Broadway St., home to live music in Nashville. In his words "The worst country band you hear here will be better than the best country band you will ever hear in Newport News". Broadway and 1st-5th Avenues is where live music lives in Nashville. The city is built on a grid, avenues run north and south, streets run east to west. Bars several stories high line the streets, the roofs offer spectacular views from all vantage points. Live music can be heard from all levels, the hustle and bustle is energizing.
Other touristy suggestions John gave us were the Grand Opry House of course. The American Pickers store is here, as well as, The Hermitage, the ancestral home of President Andrew Jackson. Centennial Park is home to the Parthenon, a full size replication from ancient Greece that houses the statue of Athena. The gem John gave us that I was unaware of was the Gulch, An entertainment area in Nashville that has Angel Wings painted on it's walls, the latest addition, butterfly wings. Thanks to John, a visit to the Gulch was added to our agenda.
According to John, the best BBQ in town is Martin's BBQ, with various locations around Nashville. Hattie-B's is the restaurant that serves the best Nashville hot chicken, different heat levels are used to prepare it. Biscuit Love is a great breakfast place, there is one in the Gulch close to the Angel Wings. The Bluebird cafe is located in Green Hills, a suburb of Nashville. Unfortunately, you have to get tickets in advance, which are done by lottery so we'll have to save it for another trip. The Listening Room is another venue similar to the Bluebird that John suggested, but we didn't have time to check it out.
John's most famous passenger was Darius Rucker, who he picked up about a year ago in downtown Nashville. I happened to be sitting in the seat Darius sat in that day. He was with another guy. Their conversation, how Darius wished he'd invested in real estate in Nashville years ago.
John dropped us off at Acme Feed and Seed where we started our tour of Music City. The bar and grill sits across from the Tennessee Titans Stadium, the Cumberland River separating them. This picture was taken from the rooftop of Acme, best place to get pictures in my opinion.

The Redneck Lomein was delicious, full of all kinds of unexpected goodness. Ron had pulled pork tacos. Great view from the roof. At first I just thought the phone booth was an antique, there for display. I realized, it is actually a place you can charge your phones. Directly behind it is the picture of Johnny Cash and Billy Graham. Ron saw it as we were walking down from the rooftop. Two great men who lived out their life's passion.
Redneck Lomein

Broadway

Broadway

Johnny Cash and Billy Graham

Phone Charging Station
Stopped in Kid Rock's Honky Tonk Bar. Ron said she wasn't very good, I thought she was great, but I'm not the music major in the family. I trust his opinion.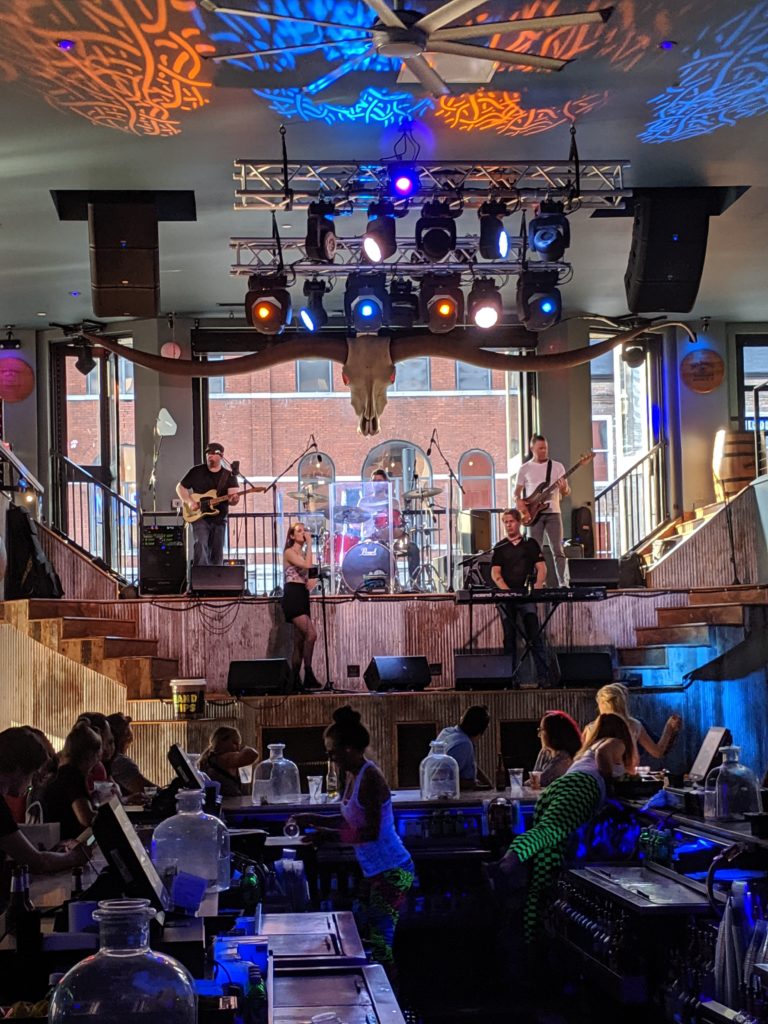 Had a drink at Luke Bryan's 32 Bridge Bar. Listened to a couple of guys but couldn't hear what their names were. Left my first Scatter card here with the tip for the band.
Stopped in Tootsies Orchid Lounge , where Willie Nelson claims to have gotten his start. The Jake Maurer Band was playing. They played Jake's favorite George Strait song, "If It Wasn't for Texas." Jake toasted the crowd after they finished the song. He had everyone lift their drinks and then toasted, "Here's to always being sincere (pause), unless you don't mean it!' Another Scatter card was left here.
Jake Maurer Band
Next stop, Dierks Bentley Whiskey Row. The band was just finishing so we moved on. Not enough time to even get a picture.
Huge homeless population in Nashville. When we checked into the campground, I received a bunch of $1 bills in change from mailing post cards. The ones were all the clerk had to give me for change. God always knows what He is doing. Needless to say, they were gone and then some by the time we came home from Broadway. I ran out of Scatter cards too!
We listened to Benny James at Cerveza Jack's. Ron was watching tennis, Andreescu vs. Mertens at U.S. Open, first set. Connor is the bouncer talking to Benny in the last picture. He wins the award for "Friendliest Guy in Nashville," welcomed us with love! I enjoyed watching him work the door. He loves what he does, there is no doubt about that. He talked to everyone, welcoming them all in genuinely, every person who passed by.
We ended our evening back at the Acme Feed and Seed so Ron could get a t-shirt. I gave the last cash I had to a young homeless girl on our way out of town. I'm working on my fear of people. First tip I begged Ron to give it for me, he wouldn't. I worked up the courage, walked up to the stage, didn't make eye contact, and dropped the bills. By the end of the night I was giving money out left and right, making eye contact, and blessing them with words, felt really good to overcome my fear. I'm currently writing a series on conquering fear, someone has to go first, might as well be me.
We left Broadway at 7:31 p.m. CST. We Ubered back with Vince who is from Nigeria. He moved to Nashville 6 years ago because he had family here. He had a deep, gravelly voice. He's been driving Uber for three years. He says it's OK, but it's a hard job. He said driving is better than a lot of other jobs he could do. He used the Uber app for his maps, first time I ever heard it. The app literally said, "Drop off Ron on the left." Overall, great evening in Nashville.
Day two we took John's advice and went to the angel wings first. I was disappointed to learn the Butterfly Wings were a temporary exhibit promoting Taylor Swift's latest album. We didn't get to see those, but we did get our wings.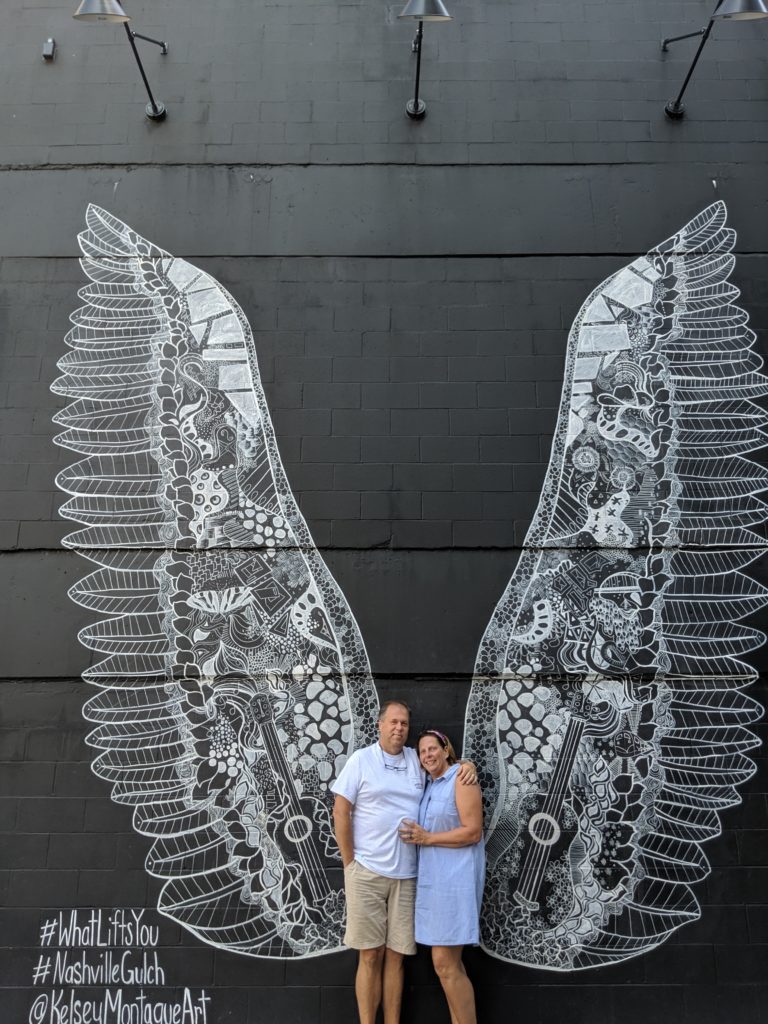 We came across the Musica Statue at Buddy Killen Circle on the way to the Parthenon in Centennial Park. The statue is currently the largest sculpture group in the United States. Nine naked men and women, each 14-15 ft. tall (more than twice life sized), dancing together in a circle.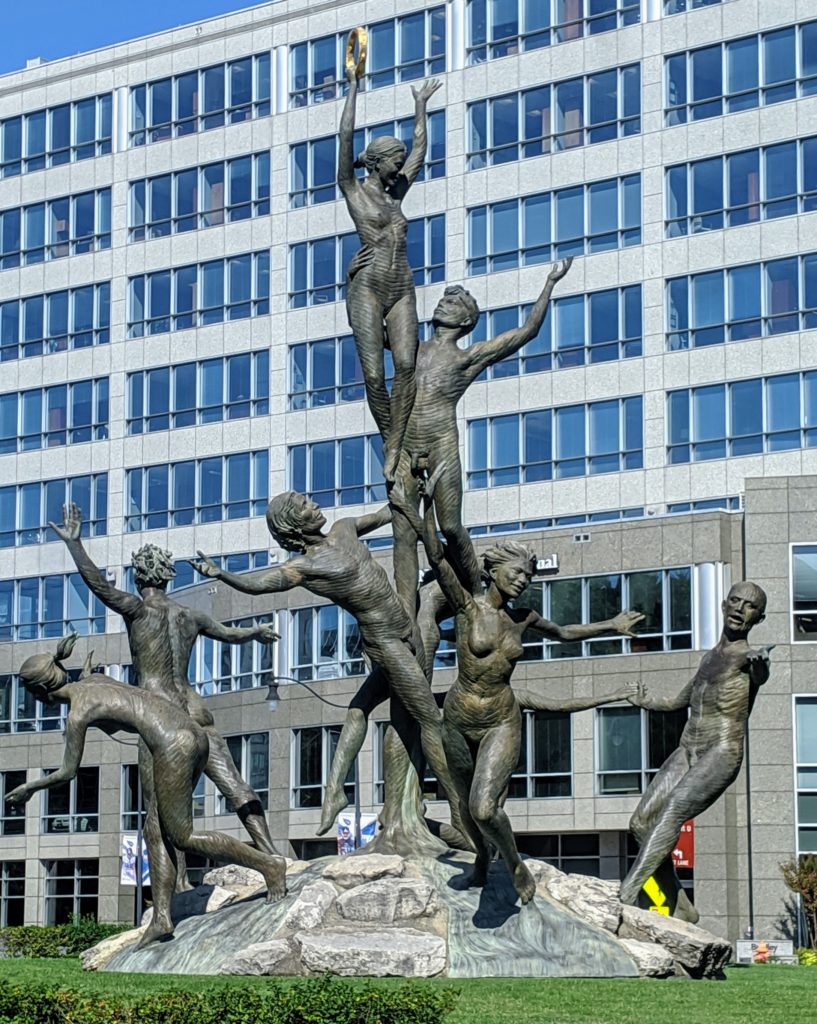 Parthenon was closed for construction, so all we were able to see was the outside. However, when the construction in this area is finished in late 2020 it would be worth visiting again.
On the way to the Grand Old Opry House scored a picture of the Nashville Skyline.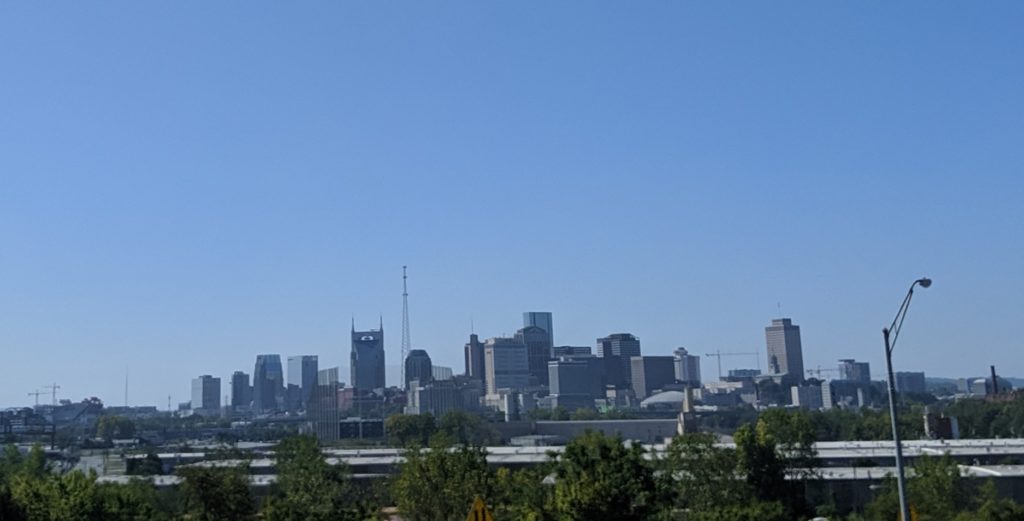 We arrived 15 minutes early for the backstage tour of the Grand Ole Opry. Tickets were $33 per person. I had time to do a little shopping in the gift shop prior to our tour where I met J.P. He is from Lynchburg, VA, he moved here with his girlfriend. She's going to school and he's enjoying living in Nashville immensely. He is planning a trip home to see his parents soon.
The tour of the Grand Ole Opry was worth the money. Garth Brooks and Trisha Yearwood were there to greet us via a well done video collage. They gave us the history of the Opry, from the Ryman Theater to today.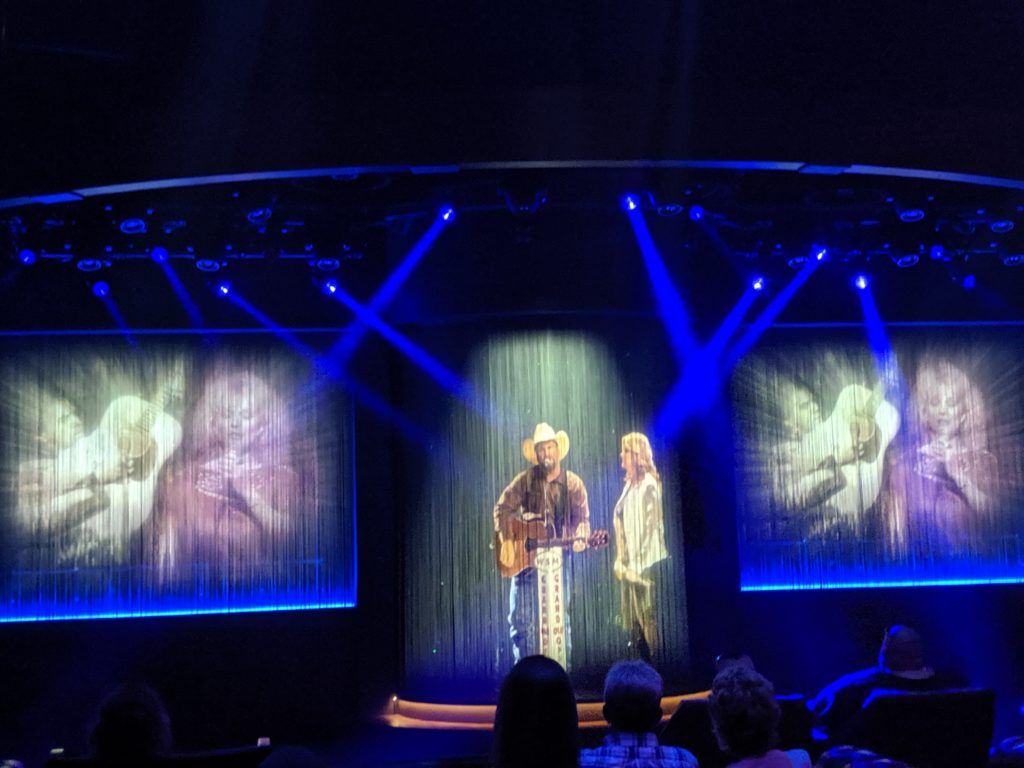 My favorite part was learning about the Circle. I did not realize it existed until today. The Ryman Theater served as the original Grand Ole Opry from 1943-1973. When they moved to their new location, they cut a circle out of the stage at the Ryman. The circle is now center stage of the Grand Ole Opry. Every young, aspiring musician wants to get in the Circle. We made it to the Circle, but not nearly the same as it is for an artist.
1979 Rolls Royce owned by Tammy Wynnette sits outside the doors of the Opry.
Corey, our tour guide is pictured here at the artist's entrance.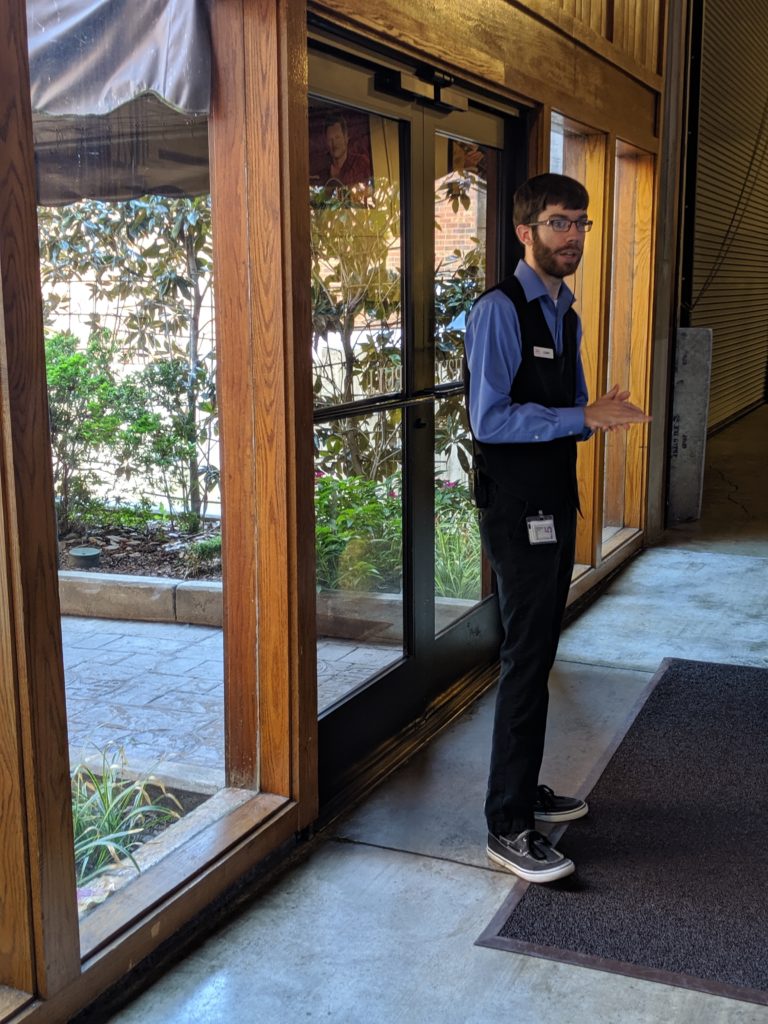 The Grand Ole Opry post office is how you can write a letter to your favorite members of the Grand Ole Opry. Just put the artist name and send it addressed to Grand Ole Opry. The music house is one of only three places you don't need a complete address to send your letter, the others are Santa Clause and the President.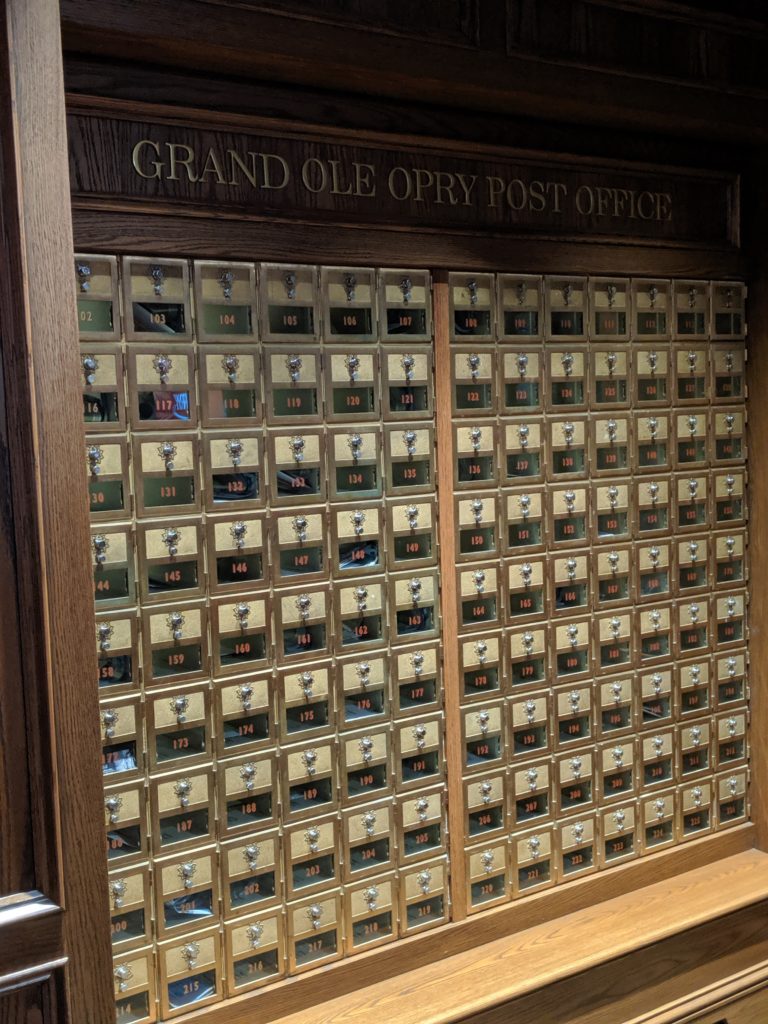 And of course there is the Member wall. Members can play any night they want. Keith Urban showed up a couple of months ago and played a song. If not a member you have to be invited to play here. There is no limit to how many members can be invited to join any given year, although in 2015 and 2016 there were no new members.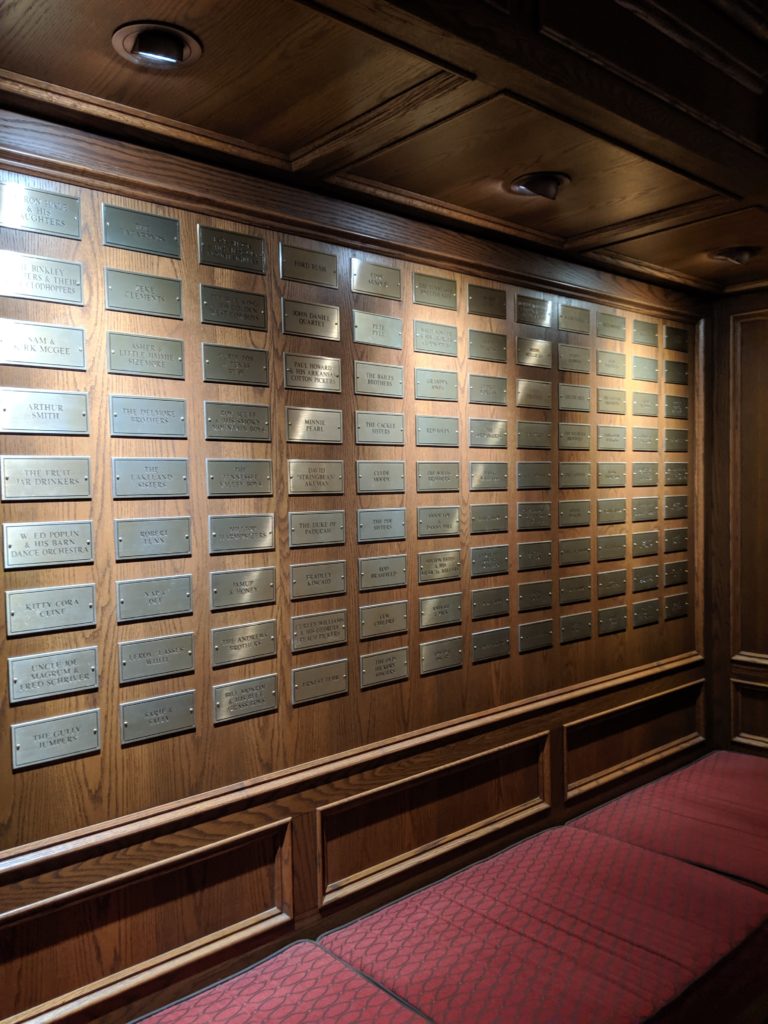 The Grand Ole Opry has 18 dressing rooms, numbered 1-19, no 13 because no one wants bad luck before going on stage. Roy Acuff's dressing room is now Vince Gill's whenever he is in town. We saw the one Rayna James (Nashville T.V. show) used for tapings of the show. There is a couple's dressing room for those who need it, Johnny and June Cash's picture hangs in the center of it.

They have a family room backstage for friends and family to hang out while waiting on the stars to do their thing. The painting below was painted by Archie Campbell from Hee Haw. He said this is what the Grand Ole Opry looks like on a Saturday night. There is a line in middle of the painting from the 2010 flood. 4 ft of water flooded the family room, and entire back stage. The flood didn't stop the music, shows continued at other venues that didn't have flood damage. After 5 months, the Opry was fully operational again. The radio show that can be found on 650 a.m., or at Grand Ole Opry has not missed a Saturday night since 1925, making it the longest running radio show in the world. Every show is broadcast over these channels. All tickets are the same price no matter who is playing, tickets start at $45 and go to $110 for front row seats.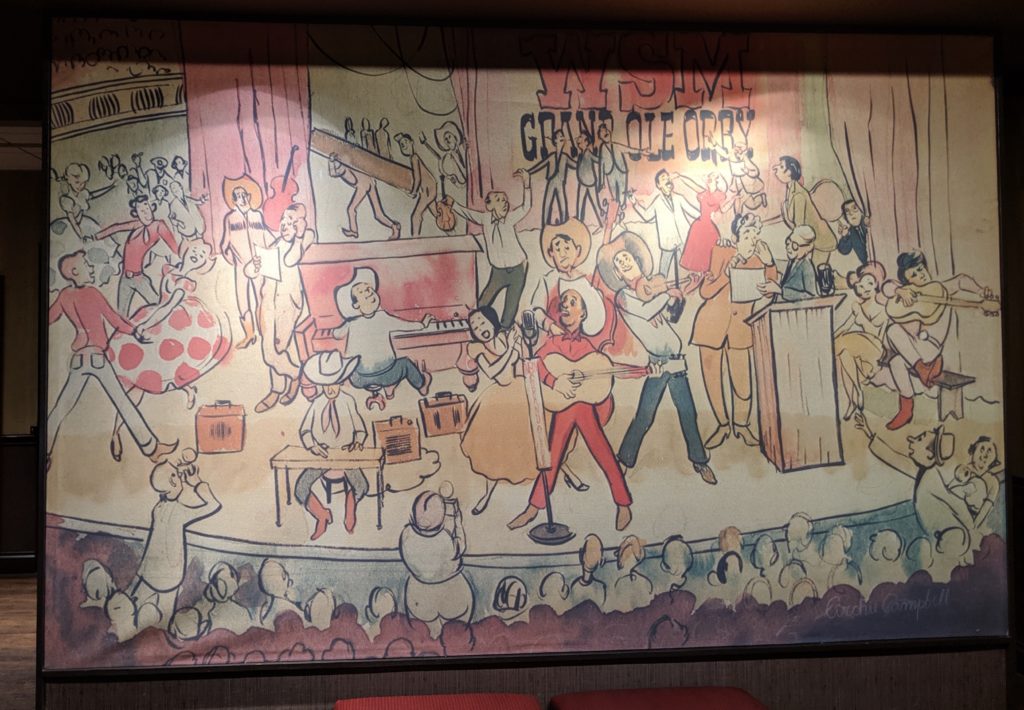 Ron enjoyed being on stage at the Opry. You could imagine what it would be like waiting to get called out to the Circle. There's a special bench, if you know the right people you can sit on stage for the show (second picture). The seats are old church pews that cushions have been added too. The Ryman Theater was originally a church, they carried that with them to the Grand Ole Opry House. God is everywhere, especially in country music.
And then there is the front of the house, the place where many a people have enjoyed the show.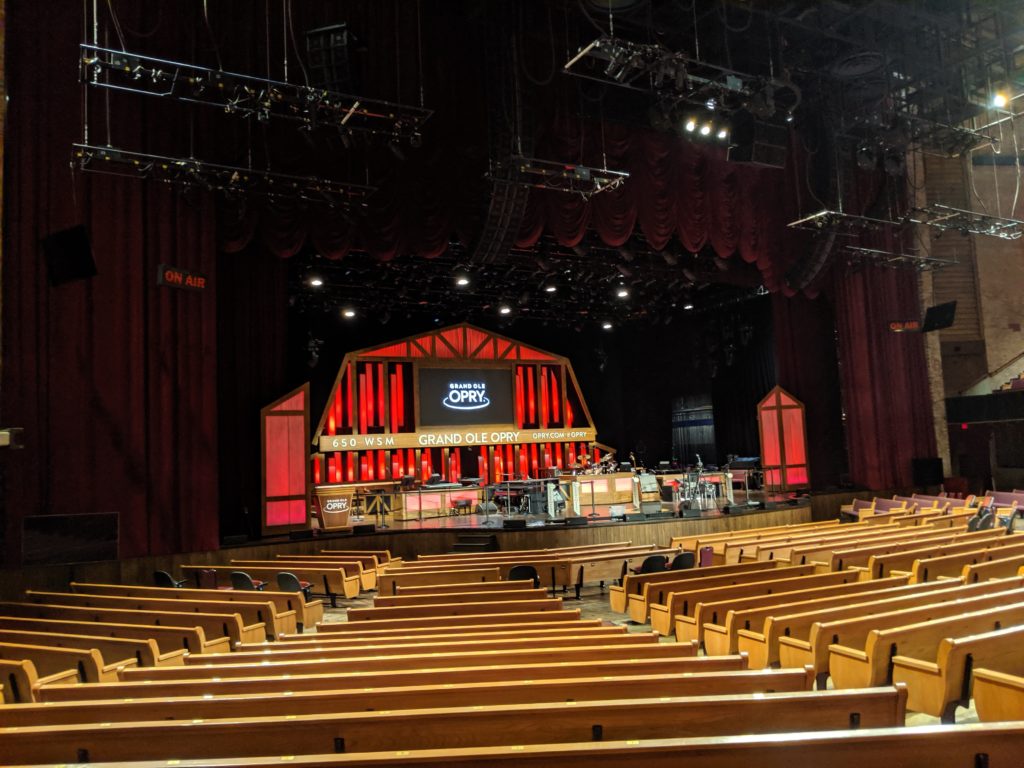 Came upon Cooter's Museum, all things Dukes of Hazard, when we left the Grand Ole Opry. Of course we had to stop. Once, when I was spending the night in Roanoke, VA while I was Flight Attendant I had a memorable encounter. I had walked down to the farmer's market they happened to be having that day. I had on bib overall shorts and t-shirt. An elderly black man sat down next to me. He felt he needed to share his opinion with me. His opinion was, I was cute, but I sure wasn't any Daisy Duke. Over 20 years later, I still remember him. I thanked him for his thoughts at the time. What I should have said was, "Thanks for your opinion, but I didn't ask for it, nor do I care." Today, when I gazed at Daisy's jeep, that is the memory that came to mind.
The sales associate at Cooter's recommended Scoreboard for lunch. He wasn't wrong. Excellent pulled pork nachos with baked beans. Ron had the smoked chicken. All I can say is, I didn't eat dinner and was fully satisfied!
Played 9 holes at Two Rivers Golf Course, a difficult municipal course that was in great shape. Had a great view of the Nashville Skyline from hole 8, except for the power lines. We were paired up with Brian and Donnie. Gorgeous day for golf, despite the score.
And that is a wrap on Nashville. Loved it, glad we came, lots of other places to see before we head back here again.