A beautiful morning here in Kentucky as we prepare for our last leg of this journey. As soon as Ron gets out of the shower we'll hook-up and head out.
Ron just crawled in the truck and said, "Last stop home!" We're both ready to be home, but only until the next adventure. At 9:07 a.m. Ron drove us out of site 10, we'll be on I-64 East for the next 7 and 1/2 hours. I did learn, from the young man, approximately 8 years old, the names of the kittens I saw yesterday. I walked up to the store to throw away garbage, he was standing by their cage. I was going to ask him if he had seen the kittens, but I didn't get the chance. Before I could say a word, he explained why all the kids were hanging around the store, "There's kittens!" He was adorable. He explained they were inside at the moment, but there names are Tiger, Houdini and Fluff. That is the news of the morning at the Ashland KOA. At 9:12 a.m. we were on I-64 with the sun shining right in our eyes.
At 9:23 a.m. Ron told me to get my camera ready, we passed into Wild, Wonderful West Virginia.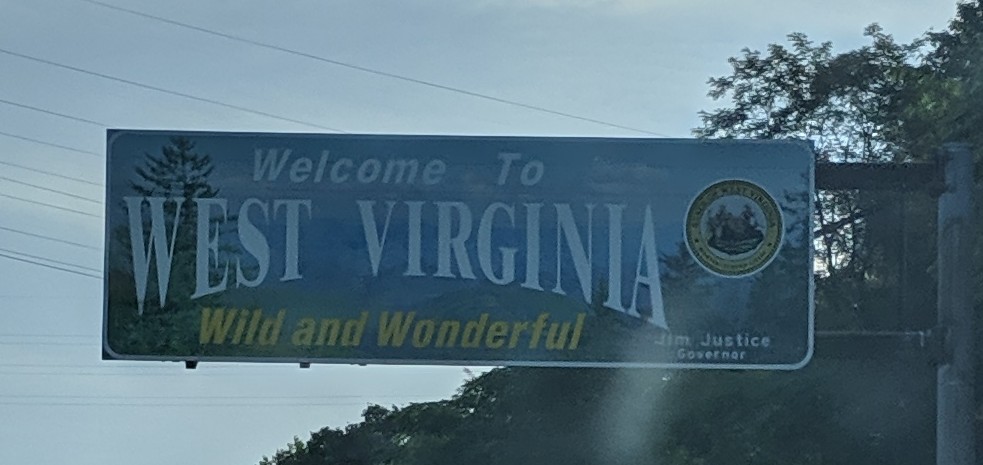 We saw a parachuter near mile marker 23 in West Virginia. The bridge over the Kanawha River was gorgeous.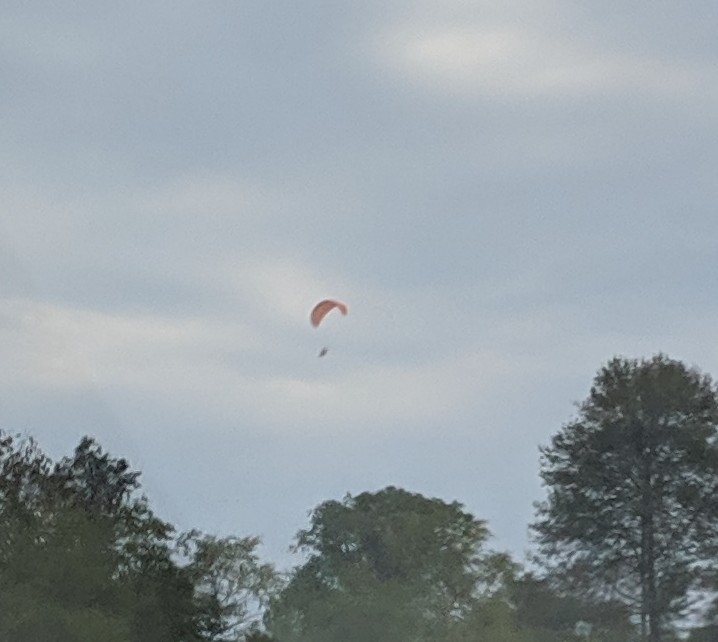 We passed through Charleston, we saw the Capital building with its gold trimmed dome under repair. I haven't been here in over 20 years, since I was a flight attendant. We used to overnight here quite a bit. I watched Apollo 13 in the movie theater here when it first came out. I remember walking by the capital building back then and learning about its dome.
Driving through the Appalachian Mountains is as gorgeous as any we saw out west. Especially since their mountain tops are green, versus the brown of the Rockies. West Virginia is the only state that lies completely in this range of mountains. We're just a little early for the leaves, they've started to change colors but are a week or two away from peaking. I can imagine how breathtaking this drive will be then.
We tried to fuel up in Lewisburg, The Coolest Small Town in America, but it was too hard with the trailer. I wanted to remember the Greenbrier State Forest park, possibly a future destination for us.
At 12:54 p.m. we crossed into our home state. We both saw the sign at the same time. Ron yelled, "Virginia" as I frantically grabbed my phone to take a picture of the sign. We're happy to be home. Ron played Dave Mathews live from Red Rocks to get us started on our journey across the state, more meaningful now that we've been there. At 2:39 p.m. I crawled back into the truck after what I hope was our last potty break for this trip. We stopped at the rest area at the bottom of Afton Mountain, just west of Charlottesville. Two hours and 17 minutes left according to Google, a little longer since we're in the truck.
We arrived home at 5:08 p.m. we went 4,949.9 miles. We missed 5,000 miles by 50.1, by the time we drop the trailer off at Gwynn's Island it will be.
By 5:28 p.m. the truck and trailer were unloaded, by 6:08 p.m. the first load of laundry was running, we were unpacked and in the hot tub. With no food in the pantry, we headed to Hilton Tavern to listen to two of our favorites, Johnny and Mike, while grabbing a burger. And that's a wrap on the Colorado adventure. Until the Morrison's next outing, which will hopefully be sooner than later, goodbye for now.