Pulled out of the campground at 10:06 a.m. CST. We were barely 10 miles down the road when the side door popped open on the camper. The door I had just closed after putting away the last chock and turned off the auto leveler. The highway is very narrow, there was not much room to pull over. Ron wouldn't let me close it, so I was praying fervently for protection as he got out and closed the door, before getting us on the road again. I told him I thought I had shut the compartment, to which he replied, "Apparently you did not." We are back on the road safely, may the rest of this leg be uneventful. We crossed into Oklahoma at 10:26 a.m. CST.
We're in Indian Country. The Grand Casino and Hotel is the last photo. Ratt is playing there soon. Lots of casinos in OK.
We're passing through America's Corner, Oklahoma City.
Arrived at 2:02 p.m. CST. at Mustang Run RV Park. This park is perfect for a quick overnight. Easy on/off I-40. Sites are all paved, the majority are pull thru. Doesn't have a camp store, but has a wonderful recreation room area with outdoor pool. The front row is right beside I-40, so it's noisy, definitely want to get a site behind the building.
While picking up supplies we saw Storm Tracker Bobby Payne, unfortunately I wasnt quick on the draw with the camera, didn't get a pic. He's been following tornadoes around the country for over 20 years.
The heat is stifling, it is accompanied by a mild breeze that blows continuously. I'm reminded of our visit to Harlingen, TX last year, it has the same warm breeze.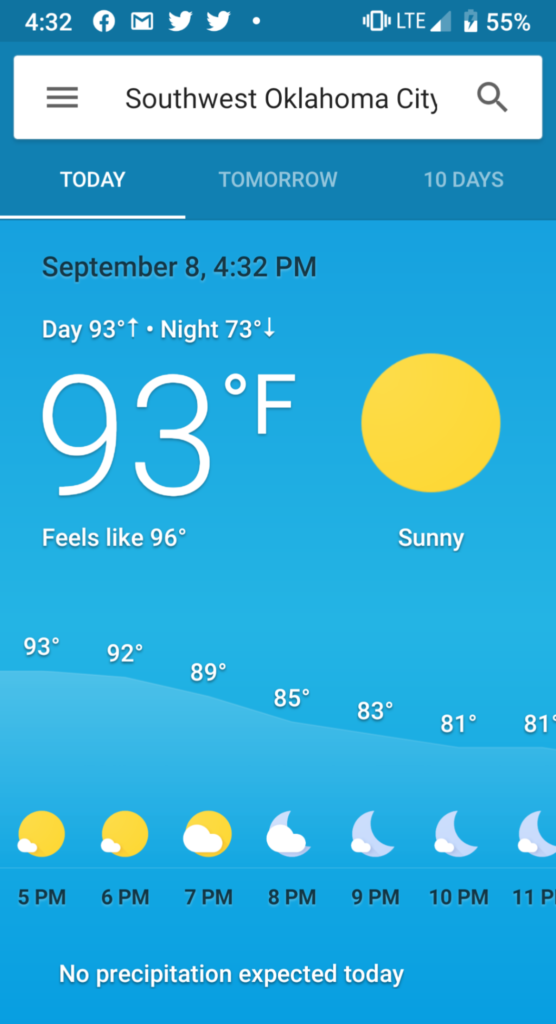 Lazy afternoon watching Rafa win his 19th Grand slam. Sophia took the couch. Rocco stayed close, he didn't want to miss a point.
Paul Harvey is well known for saying, "And now you know…the rest of the story." The rest of today's story is that I typed the above paragraph hours ago when Rafa was 2 games from winning the match. Right after I saved the above draft, Medvedev broke back, won the set and changed the entire match. Lesson learned, don't jump to conclusions. Now, the match is in the fifth set, Rafa was up two breaks and just got broken back. I'm hoping and praying I don't have to change the above paragraph. Time will tell.
On a side note, as I'm waiting anxiously for this match to end, my go to Scatter card drop this trip is leaving money for a load of laundry with a card everywhere we stop. Today, when Ron and I went to do laundry, the machine literally wouldn't accept our money and just started running. Draw your own conclusions on that one.
And Rafa won! Today is a good day in Oklahoma City!